The Lost Castle by Kristy Cambron
ISBN: 9780718095468 (paperback)
ISBN: 9780718095475 (ebook)
ASIN: B072TK73MQ (Kindle edition)
Publication date: February 6, 2018
Publisher: Thomas Nelson Publishing
Launching a brand-new series, Kristy Cambron explores the collision of past and present as she discovers the ruins of a French castle, long lost to history.
A thirteenth century castle, Chateau de Doux Reves, has been forgotten for generations, left to ruin in a storybook forest nestled deep in France's picturesque Loire Valley. It survived a sacking in the French Revolution, was brought back to life and fashioned into a storybook chateau in the Gilded Age, and was eventually felled and deserted after a disastrous fire in the 1930s.
As Ellie Carver sits by her grandmother's bedside, she hears stories of a castle . . . of lost love and a hidden chapel that played host to a secret fight in the World War II French resistance. But her grandmother is quickly slipping into the locked-down world of Alzheimer's, and Ellie must act fast if she wants to uncover the truth of her family's history.
Sparked by the discovery of a long forgotten family heirloom, Ellie embarks on a journey to French wine country to uncover the mystery surrounding The Sleeping Beauty–the castle so named for Charles Perrault's beloved fairy tale–and unearth its secrets before they're finally silenced by time.
Set in three different time periods–the French Revolution, World War II, and present day–The Lost Castle is a story of loves won and lost, of battles waged, and an enchanted castle that inspired the epic fairy tales time left behind.
Purchase Links
In 1789 Aveline was all set to marry the Duc et Viyant's eldest son as arranged by her parents, but her engagement ball was interrupted by the French Revolution and she escaped with a little help. She is now living on the Viyant's estate and recuperating from severe burns, being attended to by a former maidservant and none other than Robert, the youngest Viyant son. He's disappointed in his father and brother as they fled from the attack scene, leaving family and guests to fend for themselves. Aveline is unused to hard labor but wants to be of assistance, but Robert is afraid she may be outed and attacked by participants in the Revolution. His goals are to preserve the Viyant's vineyards, help as many people as possible, and protect Aveline. In 1943/1944, Viola is attempting to escape the Nazis in France. She is a British citizen and had been sent to France to spy on the Nazis. She and several other women were slated for execution but she was able to escape into the French countryside before she is "rescued" by Julian and the French Resistance. Present day France and Viola's granddaughter Ellie is trying to unravel the mysterious past her grandmother presented to her. She's not sure what she'll find at the lost castle, but she's determined to go there anyway and has a local guide helping her out. Three different women in three different times but only one thing ties them together, the lost castle. Their lives have been changed forever yet all find love in the same place. Is it the castle or something more that ties them all together?
The Lost Castle is three intertwined stories set in one rural French locale. All three stories are told in flashback mode and that took me awhile to get used to, because we might be in Viola's story in 1944 in one chapter and then back to 1941 in another. The contemporary storyline is the only one that has a linear presentation. As a result of the constantly changing storyline (three different stories remember) and the changing timelines within those storylines, I found this to be a bit of a slower read than normal for me. Of course, that might also have been the gradually increasing migraine headache… I actually enjoyed reading The Lost Castle once I got used to the shifting storylines and all of the characters. There's a lot of action going on in this story, the build-up to the French Revolution, the Revolution itself, and then the aftermath in Aveline's storyline. In Viola's storyline we have World War II from 1941 through 1944 in both England and France. The contemporary storyline with Ellie presents her storyline and brings all three lines together (no, I'm not going to tell you how, read the book). For those of you that enjoy reading historical fiction blended with contemporary fiction, I recommend you read The Lost Castle. For those of you that simply enjoy reading complex romance stories, then again I recommend you read The Lost Castle.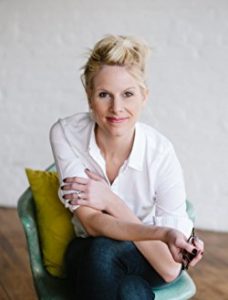 Kristy Cambron has a background in art and design, but she fancies life as a vintage-inspired storyteller. She is the bestselling author of The Ringmaster's Wife, named to Publishers Weekly Spring 2016 Religion & Spirituality TOP 10. Her novels have been named to Library Journal Reviews' Best Books and RT Book Reviewers' Choice Awards Best lists for 2014 & 2015, and received 2015 & 2017 INSPY Award nominations. Kristy's first Bible studies, THE VERSE MAPPING SERIES, will release in 2018.
Kristy holds a degree in Art History/Research Writing, and has 15 years of experience in education and leadership development from a Fortune-100 Corporation. Kristy lives in Indiana with her husband and three sons, and could probably be bribed with a coconut mocha latte and a good read.
Connect with Kristy