Day of the Dead by Nicci French
ISBN: 9780062846082 (hardcover)
ISBN: 9780062676702 (trade paperback)
ISBN: 9780062676719 (ebook)
ISBN: 9780062858382 (digital audiobook)
ASIN: B072JT5Y8J (Kindle edition)
Publisher: William Morrow Paperbacks
Release Date: July 24, 2018 



LOUISE PENNY says the Frieda Klein novels are "fabulous."


JOSEPH FINDER says they're "in the rich vein of Kate Atkinson."
And TAMI HOAG calls them "truly unique."


Now the final book in this extraordinary series is here. And it's an ending you'll never forget.
A decade ago, psychologist Frieda Klein was sucked into the orbit of Dean Reeve — a killer able to impersonate almost anyone, a man who can disappear without a trace, a psychopath obsessed with Frieda herself.
In the years since, Frieda has worked with — and sometimes against — the London police in solving their most baffling cases. But now she's in hiding, driven to isolation by Reeve. When a series of murders announces his return, Frieda must emerge from the shadows to confront her nemesis. And it's a showdown she might not survive.
This gripping cat-and-mouse thriller pits one of the most fascinating characters in contemporary fiction against an enemy like none other. Smart, sophisticated, and spellbinding, it's a novel to leave you breathless. 
No one knows that Frieda Klein has disappeared until a college student, Lola Haynes, decides to "deconstruct" Frieda's professional life for a dissertation. This student's search for the "truth" about Frieda and her past will rain down chaos and destruction on Lola's life and cause her to seek help from the only person that can protect her, Frieda. Before Lola's quest, Frieda Klein was nowhere to be found in the city of London. Her family and close friends knew that she'd gone into seclusion for no other reason to protect their lives. Now, Frieda must not only protect her friends and family but protect Lola as well from the murderous rampaging of the psychopath Dean Reeve.
Day of the Dead begins with what appears to be a horrific car crash into a restaurant. The police are able to determine only much later that the car crash was a murder masquerading as an accident. Then another murder occurs, then another, and another, all with one purpose in mind to grab the attention of Frieda Klein. Sadly the police don't really believe that's the intention of these murders until it's almost too late. It isn't until Lola's life is touched by one of these murders that the police finally begin to believe there might be some truth to Frieda's theory about Dean Reeve being the murderer behind all of these killings. He's been unstoppable for ten years and it's doubtful if he'll be stopped without fulfilling his end game, killing Frieda Klein.
I have read every book in the Frieda Klein series and each book seemed to get better and better. Day of the Dead may be the final book in this series and it is a bit different from the previous book, but it still packed a powerful punch while tying up loose ends. It was nice to see the familiar cast of characters return, such as Josef and his son Alexei, Frieda's sister-in-law Olivia, as well as her niece Chloe, Frieda's previous protege Jack, her previous mentor Reuben, journalist Liz Barron, police friend Malcolm Karlsson, and more. This story centers around Frieda and Lola and everything else seems to revolve around them, so to speak. The police investigations are a big part of the story but even that takes a back seat to Frieda, Lola, and Dean's stories. Yes, there are people that die and no, I'm not telling you who they are! Day of the Dead provides taut suspense and story twists that kept this reader on edge and turning pages until the very end. Although this may be the end of the Frieda Klein series, I'm looking forward to rereading the entire series again (yes, it is just that good). If you haven't read this series yet and you're into psychological suspense thrillers, you don't know what you're missing. Seriously, start with Blue Monday and read all the way through to Day of the Dead, you can thank me later. If you've already read the previous books in this series then go out and grab yourself a copy of Day of the Dead to read ASAP! This series remains one of my highly recommended series for the psychological-suspense or thriller reader.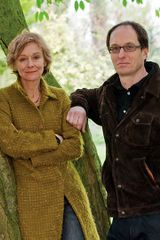 About Nicci French

Nicci French is the pseudonym of English wife-and-husband team Nicci Gerrard and Sean French. Their acclaimed novels of psychological suspense have sold more than 8 million copies around the world.

Follow them on Facebook and Twitter.





Buy the Book


Available from                 BookDepository     |     Alibris