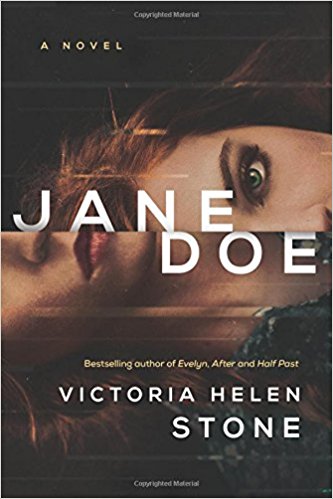 Jane Doe by Victoria Helen Stone
ISBN: 9781503900899 (hardcover)
ISBN: 9781503901032 (paperback)
ISBN: 9780062676719 (ebook)
ISBN: 9781543682236 (digital audiobook)
ASIN: B076V125RV (Kindle edition)
Publisher: Lake Union Publishing
Release Date: August 1, 2018 



A double life with a single purpose: revenge.

Jane's days at a Midwest insurance company are perfectly ordinary. She blends in well, unremarkably pretty in her floral-print dresses and extra efficient at her low-level job. She's just the kind of woman middle manager Steven Hepsworth likes—meek, insecure, and willing to defer to a man. No one has any idea who Jane really is. Least of all Steven.

But plain Jane is hiding something. And Steven's bringing out the worst in her.

Nothing can distract Jane from going straight for his heart: allowing herself to be seduced into Steven's bed, to insinuate herself into his career and his family, and to expose all his dirty secrets. It's time for Jane to dig out everything that matters to Steven. So she can take it all away.

Just as he did to her. 
Purchase Links
When we're first introduced to Jane, all we know is that she's working doing data entry at a company in the Midwest. She's taken a sabbatical from her job as a high-powered lawyer in Malaysia to come back to the States. She's toned down her appearance in terms of high-profile clothing, changed the color of her hair, and is doing everything possible to appear demure and weak. We later learn that she's grieving the death of her best friend Meg. Meg has killed herself over a relationship gone bad and it quickly becomes apparent that Jane is out to seek revenge against the man from Meg's past, Steven Hepsworth. The more Jane learns about Steven and his family, the more she desires revenge for her friend and is willing to do almost anything to get it. The only snag in Jane's plan is a chance meeting with an old college boyfriend, Luke. The more she begins to despise Steven, the more she gravitates toward Luke. Will Jane allow her quest for vengeance to override the desire for a relationship with a good man?
Jane Doe is a fast-paced and engaging read. From the very beginning, it is impossible to not know what Jane's intentions are because she verbalizes them quite well and often emphasizes the fact that she is a high-functioning sociopath. Does this make her a bad person when she's only out to get what she deems as justice for her friend? Is it ever right to take the law into your own hands? Is there anything you wouldn't do to right the wrongs of a loved one? Jane may not kill anyone (and that's the only hint I'll provide), but she does hold fast and firm to her intention to seek vengeance no matter the cost. Amazingly enough, Jane doesn't come across as a crazy person and she is somewhat likable in the end. Does she ever get her revenge against Steven Hepsworth? All I can say is read the book and find out for yourself, you won't be disappointed.
Disclaimer: I received a free digital review copy of this book from the author/publisher. I was not paid, required, or otherwise obligated to write a positive review. The opinions I have expressed are my own. I am disclosing this in accordance with the



About Victoria Helen Stone


Victoria Helen Stone is the nom de plume for USA Today bestselling author Victoria Dahl. After publishing more than twenty-five novels, she is now taking a turn toward the darker side of genre fiction. Born and educated in the Midwest, she finished her first manuscript just after college. In 2016, the American Library Association awarded her the prestigious Reading List Award for outstanding genre fiction. Having escaped the plains of her youth, she now resides with her family in a small town high in the Rocky Mountains, where she enjoys hiking, snowshoeing, and not skiing (too dangerous).

Connect with Victoria on her Website or on Twitter.



Giveaway


Enter to win one (1) print copy of Jane Doe by Victoria Helen Stone courtesy of TLC Book Tours. To enter, use the Rafflecopter form below. This giveaway runs through 11:59 PM ET on 08/12/2018 and the winner will be announced by 10:00 AM ET on 08/13/2018. This giveaway is open to residents of the United States and Canada only. Void where prohibited by law.