Once A Midwife Hope River #3 by Patricia Harman
ISBN: 9780062869333 (hardcover)
ISBN: 9780062825575 (trade paperback)
ISBN: 9780062825582 (ebook)
ISBN: 9780062867711 (audiobook)
ASIN: B0756DR699 (Kindle edition)
Publication date: November 6, 2018 
Publisher: William Morrow 



Welcome back to Hope River in New York Times bestselling author Patricia Harman's newest novel as midwife Patience Hester, along with her family and friends, face the challenges of the home front during World War II.

The women of Hope River trust midwife Patience Hester, whose skill in delivering babies is known for miles around. But though the Great Depression is behind them, troubles are not, for Europe is at war…and it can only be a matter of time before the U.S. enters the fray.

And while some are eager to join the fight, Patience's husband, Daniel, is not. Daniel is a patriot—but he saw too much bloodshed during the First World War, and has vowed never to take up arms again.

His stance leaves Patience and their four children vulnerable—to the neighbors who might judge them, and to the government, who imprison Daniel for his beliefs.

Patience must support their family and fight for her husband's release despite her own misgivings. And with need greater than ever, she must also keep her practice running during this tumultuous time…relying on generous friends, like Bitsy, who has returned to Hope River, stalwart neighbors, and her own indomitable strength to see them all through.
  |  Downpour Audiobook
  |   eBooks  |  Booksamillion
Author Patricia Harman returns to Hope River, West Virginia and the Hester family in the early 1940s with her latest addition to the Hope River Series Once A Midwife. Adolph Hitler and the Nazis are overtaking most of Europe, the United States is initially practicing isolationism from the European conflict until the bombing of Pearl Harbor, and the country is still reeling from the Great Depression. Patience Hester is still a practicing midwife and her husband, Daniel, is still working as a veterinarian. Their family consists of their two biological children, Danny and Mira, along with their adopted twin daughters Sunny and Sue. Bitsy Proudfoot, Patience's friend, trainee and former roommate, returns to Hope River to with her ward, Willie. Bitsy and Willie, along with the Hesters are making the best of their situations and hoping and praying that war will not come to West Virginia. Their hopes are dashed with the bombing of Pearl Harbor and men from their community and surrounding communities are eager to do their part, signing up to fight, except for Daniel Hester. Daniel refuses to sign up for the draft and isn't eager to return to war after the Great War or World War I. He witnessed first hand the atrocities man commits against man and animal alike and he doesn't want to have a part in perpetuating those acts of inhumanity and insanity. Needless to say, this causes problems for Daniel in the community as well as with Patience and his own son. Patience has a hard time understanding Daniel's pacifism but is determined to stand by his side. Their son, Danny, initially feels that his father is being cowardly until Daniel tries to explain to the children the reason for his actions. The looming question on everyone's mind is will Daniel be sent to prison for his actions and if so, for how long and where will he go? For Patience, the question becomes can she continue to stand by her husband if she doesn't agree with his decision when she's the one that will bear the brunt of the work and fallout afterward? Does she have the strength to do what needs to be done to keep her family going forward? As the men of Hope River and beyond go off to war, the women are left to tend the farms and families while worrying about loved ones far, far away. Can they stay strong in the midst of these trying times?
Once a Midwife is the third book in the Hope River series by Patricia Harman and this book packed quite an emotional punch. Mr. Harman touches on a number of topics and themes throughout the story, such as pacifism in times of war, family solidarity, local prisoner of war camps, and even interracial relationships and marriage. This wasn't an easy read partially due to the subject matter presented (and due to a bout with vertigo that caused a brief hospitalization, chronic daily migraine headaches, and a sinus infection — hey, if you're going to get sick, do it right!), but it was one that I found to be touching, emotional, and even enjoyable. I'm always eager to read books featuring West Virginia, even if it is with a fictional town and fictional characters. I've read and re-read the Hope River series by Ms. Harman and was looking forward to reading Once a Midwife and it did not disappoint me. I enjoyed the historical tidbits, the characters, and even the mountain settings (West Virginia is a gorgeous state…come by for a visit sometime). Ms. Harman has an adept way of pulling the reader into the day-to-day lives of her characters and investing the reader into the characters and story's final outcome. If you've read any of the books in the Hope River series then I highly recommend you grab a copy of Once a Midwife to read. If you haven't read any of the previous books in this series, start with The Midwife of Hope River and The Reluctant Midwife before reading Once A Midwife. This historical fiction series is one that I consider a #mustreadseries and I hope you'll agree.


Watch the trailer


About Patricia Harman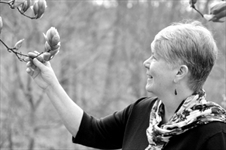 Photo by Callie Lindsey Photography


Patricia Harman, CNM, got her start as a lay midwife on rural communes and went on to become a nurse-midwife on the faculties of Ohio State University, Case Western Reserve University, and West Virginia University. She is the author of two acclaimed memoirs and three novels: the bestselling The Midwife of Hope River, The Reluctant Midwife, and The Runaway Midwife. She has three sons and lives near Morgantown, West Virginia.

Find out more about Patricia at her website, and connect with her on Facebook and Twitter.