The Hound of Justice, The Janet Watson Chronicles #2, by Claire O'Dell
ISBN: 9780062699336 (trade paperback)
ISBN: 9780062699381 (ebook)
ASIN: B07FCJCRYB (Kindle edition)
Publication date: July 30, 2019
Publisher: Harper Voyager
Dr. Janet Watson and former covert agent Sara Holmes, introduced in the acclaimed A Study in Honor, continue their dangerous investigation into the new American Civil War with the help of fresh allies, advanced technology, and brilliant deduction in this superb re-imagining of Sherlock Holmes.
It's been two months since Dr. Janet Watson accepted an offer from Georgetown University Hospital. The training for her new high-tech arm is taking longer than expected, however, leaving her in limbo. Meanwhile, her brilliant friend and compatriot, Sara Holmes, has been placed on leave—punishment for going rogue during their previous adventure. Neither is taking their situation very well.
Then an extremist faction called the Brotherhood of Redemption launches an assassination attempt on the president. The attempt fails but causes mass destruction—fifty dead and hundreds more injured, and Holmes takes on the task of investigating the Brotherhood.
Holmes is making progress when she abruptly disappears. Watson receives a mysterious message from Holmes's cousin Micha and learns that her friend has quit the service and is operating in the shadows, investigating clues that link the Brotherhood to Adler Industries.
She needs a surgeon, Micha tells Watson. She needs you.
Reunited once more, Dr. Watson, Holmes, and Micha embark on a mission through the deep South to clear Holmes's name, thwart the Brotherhood's next move, and most important, bring their nemesis to justice for the atrocities she's committed in the New Civil War.
Purchase Links:
IndieBound
  | 
Amazon
  | 
Amazon Kindle
  | 
Barnes and Noble
  | 
B&N Nook
  | 
BookDepository
  | 
Books-A-Million
  | 
eBooks
  | 
!ndigo Books
  | 
Kobo eBook
Dr. Janet Watson returned to Washington D.C. from the new American Civil War filled with anger, PTSD, and without a home or job. She eventually did find a home with Sarah Holmes, a government agent, and a job with the VA. The job situation didn't last very long and ended with Janet and Sarah uncovering some unsavory connections between Adler Industries and the VA. On a happy note, Janet wound up with a new job at Georgetown University Hospital as a surgeon and a new prosthesis. But all is not right in Dr. Janet Watson's world. People are dying in the hospital of unknown causes, her roommate vanishes mysteriously, her grandmother has been diagnosed with Alzheimer's, her deadline to become a practicing surgeon gets pushed back, and she gets roped into doing a presentation at a medical conference where her ex will also be presenting. After Sara disappears, Janet receives a notification from Hudson Realty to vacate the premises, and then receives a mysterious notice from Sara's cousin Micha that Janet should take a leave of absence from her job to help Sara out on a job behind enemy lines. It's bad enough that Sara's disappearance is interfering with Janet's job, but now it's expected that Janet should use her family—her ailing grandmother in the deep South—as an excuse to travel into the New Confederacy. The last adventure Sara became embroiled in involved Nadine Adler, Adler Industries, and ended with Janet being shot. This time, Janet is expected to use her surgical skills (untested skills at that on an unknown subject), behind enemy lines, and she just might be going up against Nadine Adler again along with the Brotherhood of Redemption. Will Janet be able to successfully complete this mission or are Sara and Micha expecting too much from their friend Dr. Watson this time?
I read and thoroughly enjoyed the first book in the Janet Watson Chronicles, A Study in Honor. Sara Holmes is quite unlike the modern Sherlock Holmes characters we've seen in movies and television. She's very intelligent, just like the original fictional Sherlock and somewhat of a recluse, but this Holmes works with the FBI and has an extended family support system by means of her cousins and grandmother. Janet Watson is very similar to Dr. John Watson in that she is a war veteran, a physician, and has an estranged sibling, but the similarities end there. This Dr. Watson and Holmes are strong, Black, females and Dr. Watson is a lesbian. These ladies are residing in a time that is not quite post-apocalyptic but definitely a dystopian world where the United States has experienced a new Civil War and confederate states have successfully seceded from the US and are attempting to stage a coup/assassination of the newly elected president. This Watson and Holmes duo feature a Hudson and Adler, but they are unlike the Hudson and Adler seen in previous iterations of Watson and Holmes' stories. The Hound of Justice made for a nice follow-up to A Study in Honor and was a fast-paced and engaging read. I loved the interaction between Janet Watson and her occupational therapist, her psych therapist, her love interest (a bookstore owner), her colleagues, her family, and, of course, with Holmes and the Holmes family. The Hound of Justice offers mystery, political intrigue, slight romance (although not the overriding theme), self-realization, family angst and drama (on both the part of Watson and even Holmes to a certain extent), along with the overriding theme of friendship and what we're willing to do for the sake of our friends and what is right. Just in case you can't tell, I really enjoyed The Hound of Justice and sincerely hope there will be another installment in the Janet Watson Chronicles because I can't accept that this is where it ends. I strongly encourage you to grab copies of A Study in Honor and The Hound of Justice by Claire O'Dell to read. This is one series you won't want to miss out on. Happy Reading y'all! 📖
Disclaimer: I received a free print review copy from the publisher, Harper Voyager via TLC Book Tours. I was not paid, required, or otherwise obligated to write a positive review. The opinions I have expressed are my own. I am disclosing this in accordance with the Federal Trade Commission's 16 CFR, Part 255: "Guides Concerning the Use of Endorsements and Testimonials in Advertising."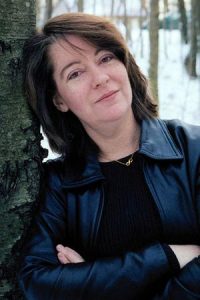 About Claire O'Dell
Claire O'Dell grew up in the suburbs of Washington, D.C., in the years of the Vietnam War and the Watergate Scandal. She attended high school just a few miles from the house where Mary Surratt once lived and where John Wilkes Booth planned for Lincoln to die. All this might explain why she spent so much time in the history and political science departments at college. Claire currently lives in Manchester, Connecticut, with her family and two idiosyncratic cats.

Find out more about Claire at her website, and connect with her on Facebook and Twitter.