The Lucky Ones by Tiffany Reisz
ISBN: 9780778331162 (paperback)
ISBN: 9781488027994 (ebook)
ISBN: 9781488204036 (audiobook)
ASIN: B073ZFLPWJ (Kindle edition)
Publisher: MIRA
Release Date: February 13, 2018
They called themselves "the lucky ones."
They were seven children either orphaned or abandoned by their parents and chosen by legendary philanthropist and brain surgeon Dr. Vincent Capello to live in The Dragon, his almost magical beach house on the Oregon Coast.
Allison was the youngest of the lucky ones living an idyllic life with her newfound family…until the night she almost died, and was then whisked away from the house and her adopted family forever.

Now, thirteen years later, Allison receives a letter from Roland, Dr. Capello's oldest son, warning her that their father is ill and in his final days. Allison determines she must go home again and confront the ghosts of her past. She's determined to find out what really happened that fateful night–was it an accident or, as she's always suspected, did one of her beloved family members try to kill her?

But digging into the past can reveal horrific truths, and when Allison pieces together the story of her life, she'll learns the terrible secret at the heart of the family she once loved but never really knew.

A vivid and suspenseful tale of family, grief, love—and the dark secrets that bind everything together—Tiffany Reisz's latest is enthralling to the final page.
Purchase Links


Read an excerpt (follow the excerpt tour to read more):


"We had sex yesterday," she said. "Twice."

"That wasn't breakup sex," he said. "And don't give me that look. This is your own fault."

McQueen pointed at her, shook his finger.

"My fault? My fault?" Allison was laughing in utter amazement at the sheer gall of the man.

"Your fault. You've been trying for years to make me a better man," he said.

"Give more money to the poor. Be nicer to my employees. Don't date girls my daughter's age. Well, maybe your guilt trips finally started to sink in a little. I don't call you Jiminy Cricket because you wear a top hat and tails."

"You are unbelievable," she said.

"Allison," he said, "I am sorry about this. I truly am."

He held out his hand to shake.

"Six years of my life," she said, "and it's going to end in a handshake."

"You already said no to breakup sex," he said.

Another hard truth. So she took his hand. As soon as her hand slipped into his he pulled her gently to him and held her close.

"You bastard," she said even as she wrapped her arms around his shoulders.

"Thank you for always being there for me, Allison. You are smart and lovely and kind—when you aren't furious at me—and I'll miss you."

"I hope you and your new lady and the baby are very happy together," she said.

"I hope so, too."

A knot formed in her throat. A vise clamped down onto her chest. One tear escaped her eye before she could capture it, lock it up and throw away the key.

"You know what the stupid thing is," Allison said, speaking to stave off the building panic.

"I don't even like you very much."

McQueen chuckled. She felt his chest rumble against hers. She'd miss that, too.

"I mean it," she said. "You're arrogant and entitled and you do whatever you want, consequences be damned, and you're…you're…"

"Rich," he said. "That's the word you're looking for."

"That's it," she said.

"If you don't like me, why are you so upset?" he said, his tone teasing, and any other day they'd be in bed together already.

"Because I'm going to miss not liking you."

He pulled her a little closer, a little tighter. He kissed her cheek, her forehead and then, at last, let her go. She hated herself for letting him be the one to let go first. Once he was gone, she would be alone, completely alone. No family. No friends. A woman on call day and night for a powerful man didn't get to make friends. She hated him and never wanted to see him again. She loved him and never wanted him to leave her. But she didn't cling to him when he pulled away, and she counted that a victory.

"If it makes you feel any better," McQueen said, his hands still on her face, "this wasn't an easy decision."

"Weird," Allison said. "It doesn't make me feel any better."

McQueen raised his hands in defeat. "I'll go."

She swallowed again. "Bye."

"Don't forget there's some mail for you in the box."

"Anything important?" She never got mail at McQueen's address.

"It's a package from Oregon. No idea why it came to my house."

"Oregon?"

She glanced in the box at the padded envelope. Sure enough, it was postmarked Clark Beach, Oregon. And the name on the return address read Roland Capello.

Allison gasped, then clapped a hand over her mouth in shock.

"Allison?" McQueen had been retreating during the conversation but now he rushed to her. "Honey, what's wrong? You look like you're about to faint."

"It's from my brother," she breathed. "This is from my brother."

McQueen stared at her like she'd grown a second head in the past three seconds.

"Your brother?" he repeated. "I've known you seven years. You never told me you had a brother."

Allison looked at him with tears in her eyes.

"That's because…I don't."
Excerpt From The Lucky Ones by Tiffany Reisz, 
to be released on February 13, 2018, by MIRA Books. 
Copyright © 2018 by Tiffany Reisz. All Rights Reserved.



Meet the Author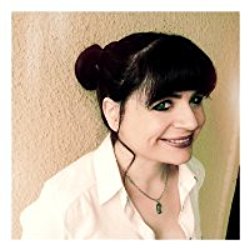 Tiffany Reisz lives in Lexington, Kentucky with her husband, author Andrew Shaffer.



Connect with Tiffany at her website, Facebook, and Instagram